Promote the "Multiple Use Marine Protected Area" AMUM for the surrounding areas off the Osa Peninsula


General goal:

To promote and support, with a solid scientific base, the creation of a "Multiple Use Marine Protected Area" off the coast of the Osa Peninsula, Costa Rica and cooperate with all involved parties to achieve its effective protection and enforcement.

The main objective of the AMUM "Multiple Use Marine Protected Area" management category is the protection and conservation of the comprised marine areas and to assure sustainable use of their resources and habitats. Private, commercial, scientific and sport fishing, as well as tourism development and marine transportation activities, will be executed within a management plan and supervision.

The area that we have determined as needing protecting is located in the south of the Pacific Ocean of Costa Rica. A "Multiple Use Marine Protected Area" AMUM, is proposed from and including Marino Ballena National Park and Caño Island to Punta Sirena.
This area comprises already protected areas (Corcovado National Park, Isla del Caño, Marino Ballena National Park and Terraba-Sierpe Mangroves); ecosystems of great relevance and unique biological characteristics. The importance of these ecosystems and their immediate and future threats, calls for real protection, coordination and control, both of their natural resources and the activities carried out within their boundaries.
In 2004, the Costa Rican government issued a decree to protect 25% of the nation's Exclusive Economic Zone. In support of this objective, and to assist in determining the management and protection needs of the extensive marine life found here, MPA for OSA's ambitious project will provide direct technical input, using their extensive scientific database, to create a Protected Marine Area (MPA) and to improve networking for marine biodiversity research at local, national and international levels. This will be accomplished with a master plan that will determine the management and protection needs of the Mesoamerican Marine Corridor's biodiversity and natural resources.

The establishment of protection, conservation and management strategies for the proposed Marine Reserve must consider a wide range of factors, threats and people that have an impact on these mentioned ecosystems. It is nearly impossible to efficiently protect marine systems if the areas directly or indirectly associated with them are not also protected. Answers to these issues have to consider all aspects involved and must begin by understanding the structure and natural functions of the ecosystems involved, their vulnerability and their workload.

The waters in Marino Ballena National Park, Corcovado National Park, Isla del Caño and Terra-Sierpe wetlands represent refuges and genetic banks of many species that may only be found in this area since outside these protected waters, their populations have been exploited and depleted in the last few years.

The conservation of the Osa Peninsula marine life is a complex process that requires commitment, participation and coordination from all possible institutions, individuals and organizations. MPA for OSA seeks cooperative efforts to support our initiative from partners and involved organizations, the private sector and government.
Specific goals:
To initiate the creation of a Marine Education and Research Center that will:
• Support the creation of environmental and protective laws towards marine eco-systems and its resources and creating protected marine areas
• Help preserve the representative natural environments of the area and its' more fragile ecosystems in order to guarantee the equilibrium and continuity of such marine mega-ecosystem
• Guarantee the sustainable use of natural resources encouraging the active participation of local communities
• Support, promote and carry out scientific studies related to marine resources, especially those related to marine mammals and sea turtles.
• Carry out educational projects on these animals and contribute to the creation of an environmental awareness about marine resources
• Create a web of information, documentation and reference on local marine life with educational purposes.
• Stimulate and support other organizations and institutions that may share our goals.
• Implement varied educative activities with and for the local community (workshops, courses, presentations of the use of new technologies, GPS, data collecting, first aid for a beached or hurt cetacean and others).
• Develop educational programs and informative materials for kids, tourists and research (Osa marine mammals ID catalogs, Interaction Guidelines for Tourists, Photo Id catalogs for Research use)
• Carry out environmental campaigns: waste and harmful chemical reduction in homes and hotels, beach cleaning, recycling etc.
• Promote regulated eco-tourism specially oriented towards cetaceans watching in their natural habitats.
• Support the certification of tour operators and tour guides involved in Whale and Dolphin watching, and contribute to the establishment of adequate whale and dolphin watching activities and to guidelines for appropriate interaction
• Continue the monitoring and collection of sighting data in order to maintain the health and sustainability of the MPA as well as write and submit scientific articles and conduct studies that contribute to a better understanding of marine mammals.
• Monitor, report and help prosecute illegal activities
Research Info
From 1999 to 2008, Delfin Amor Eco Lodge, a small hotel nestled in the heart of Drake Bay, closed in 2008 to focus on marine activities exclusively, in conjunction with the Vida Marina Foundation, collected sighting data on their dolphin and whale educational research tours. Delfin Amor's tours, now run by The Divine Dolphin, are conducted year round, with a higher percentage of tours in the "dry season," December through April.
During our research tours, we counted and document the location of turtles, dead and alive, as well as commercial fishing boats and long lines. Also documented were the dolphins' and whales' group size, ages, and also their travel and feeding patterns and behaviors. Digital photos and video were also taken to further document and identify the dolphins, whales, turtles and commercial fishing activities. With the data analysis we have carried out, we have documented an alarming 79% decrease in the Olive Ridley Sea Turtle (Lepidochelys olivacea) population during the last several years.

Our solid scientific database allows us to generate reports and graphs that demonstrate the variety of species found here and the need to protect them. The sighting data collected by our marine biologists and volunteers on our tours is entered into the computer database. The information generated from this database, along with comprehensive knowledge of the marine resources in the area, will serve as the basis for the development of protected areas, control and protection measures, designation of local capacity building projects, and regional planning in general.

A marine biologist on the Vida Marina team prepared a technical interpretation of the data collected during the past years, and developed an unprecedented study of marine mammals in Costa Rican waters off the Osa Peninsula. The costs and resources invested in such work were a contribution from Delfín Amor Eco Lodge and several grants, but now that Delfin Amor no longer exists, we seek funds to continue our important research and data collection and need your help to do that.

Vida Marina's published scientific documents are:
CO-OCURRENCE OF CETACEAN INDICATOR SPECIES OF UPWELLING MODIFIED WATERS AND TROPICAL WARM WATERS OFF OSA PENINSULA, COSTA RICA
Conservación de Cetáceos en la Península de Osa, Costa Rica: La Ballena Jorobada como Especie Sombrilla
Determinación Preliminar de Hábitat Crítico de Alimentación del Delfín Nariz de Botella (Tursiops truncatus) en Golfo Dulce, Costa Rica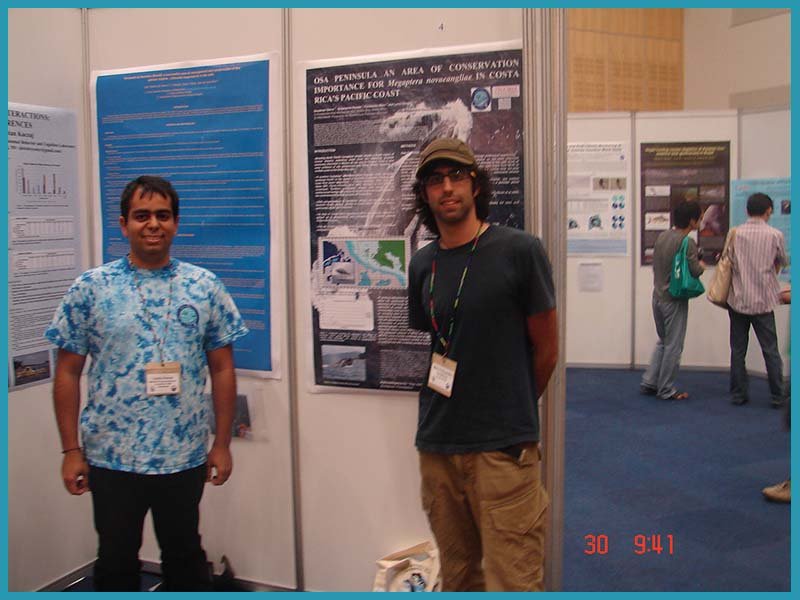 An important part of our work will be to contribute to community environmental education and motivate specific groups such as boat captains and tour guides to learn from our experiences, join our research, and share their local natural history and knowledge. One of our key roles within the community will be to promote a sense of awareness and nature loving spirit from the local people. We will invite neighbors, fishermen, boat captains, tour guides and others to participate during our educative workshops and presentations about marine life and conservation.

Education and support of the people in the area means an opportunity to act against immediate threats and to help reduce negative impact on natural resources. It also enables us to work together as a community with environmental and governmental authorities to seek efficient conservation and protection methods.
Benefiting Communities
Marine resource use in Costa Rica tend to over-exploit those resources at various levels, from intensive commercial fishing to the expansion of marine ecotourism and its innovative modalities.

Responsible long-term policies and managerial practices for the conservation and sustainable use of this resource benefit multiple communities:
• The Costa Rican national tourism industry by responsible conservation of the marine resources upon which this industry greatly depends.
• The Costa Rican fishing industry by responsible conservation of resources necessary for the productivity and ecosystems health allowing the industry to be sustained.
• The local and scientific communities and superior education sector by creation of new spaces for research, area study and field work.
The above industries are vital to the economy of Costa Rica in general.
Benefits of Eco Tourism and Tourism Management Plans
With the addition of improved roadsand access to the Osa Peninsula, tourism is growing at a faster rate. More boats are seen on the water, and more people are on the trails of the national parks in the area. It is important to establish regulations now that will protect our natural resources as tourism grows. The majority of people who come to the Osa Peninsula are nature lovers who want to be educated on local conservation and protection activities. It is essential to work on educational projects directed at both locals and tourists so that tourism can grow in a sustainable and ecological way.

Dolphin and Whale Watching is one of the fastest growing segments of eco-travel destinations. While Costa Rica is known for her rainforests and the conservation of them, not many people know that Costa Rica also harbors an incredible variety of marine life. The addition of a marine protected area in Costa Rica would increase this country's reputation as an eco-destination bringing more tourist income. However, said marine tourism would need to be monitored and governed so as to not harm or cause threat to the marine animals and/or natural resources.
Ideas for combining a marine protected area and tourism can be found in this edition of
MPA News
. Many ways are discussed to help support both interests, including a usage fee for those utilizing MPA waters
"Managing the relationship between tourism and marine protected areas requires a balancing act on the part of MPA practitioners. The unique ecological features found in MPAs often make them popular tourist attractions for scuba diving, sightseeing, or other activities, and these can generate revenue for the MPA and the local community. But tourists, if not managed carefully, can quickly degrade the very resources they have come to see."
Many more ideas and concerns are covered in the Guidelines for Tourism in Parks and Protected Areas of East Asia by the IUCN– The World
Conservation Union:

"Management is a crucial element for the long-term survival of the environmental and cultural resources upon which ecotourism depends and is frequently the weak link in the connection between tourism and the environment."

Another great guideline to follow is the Sustainable Tourism in Protected Areas - Guidelines for Planning and Management prepared for the United Nations Environment Programme, World Tourism Organization and IUCN, The World Conservation Union. In the below table, they outline the many benefits of tourism in protected areas.
The Sustainable Tourism in Protected Areas - Guidelines for Planning and Management further states:

"The number of people taking part in many outdoor activities is growing, especially in hiking, cycling and water-based activities such as sea kayaking or scuba diving. There has also been a huge growth in 'soft' adventure and ecotourism or nature-tourism types of trips. 'Soft' activities are those where a more casual, less dedicated approach is taken to the activity or natural attraction, and a desire to experience it with some basic degree of comfort; whereas 'hard' adventure or ecotourism involves specialist interest or dedicated activity, and a willingness to experience the outdoors or wilderness with few comforts. The tourism industry has responded to this range of interests by developing many types of niche market packages."

Other important references relating to marine protected areas and tourism:
Impact of tourism in coastal areas: Need of sustainable tourism strategy
The Role of Tourism Operations in the Management of Marine and Coastal Protected Areas: A Case Study of the Seychelles